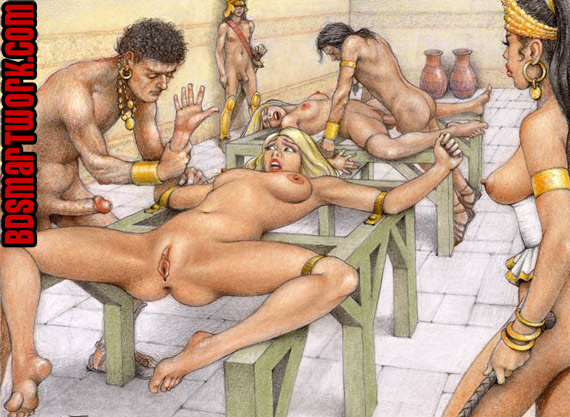 "You think that your hot looks and blonde hair will have our men treating you with deference and respect, but that shows just how little you know about Troy. We treat every legal citizen with value and respect, but have no mercy for our enemies! Bind her tightly guard, I want to watch her thrash under my whip until her delicate bones snap against the restraints!"
SLAVE: "No, you've got to let me go! I was a free citizen like you, please don't do this!"
"A fuck-slave should be thankful whenever a citizen is kind enough to grace your womb and throat with their superior cum. Yes, even tighter guard! Ignore her sobs, she's just eager to start her training on the breeding rack. Once she's got a belly full of Roman seed, she'll realize her new place in society!"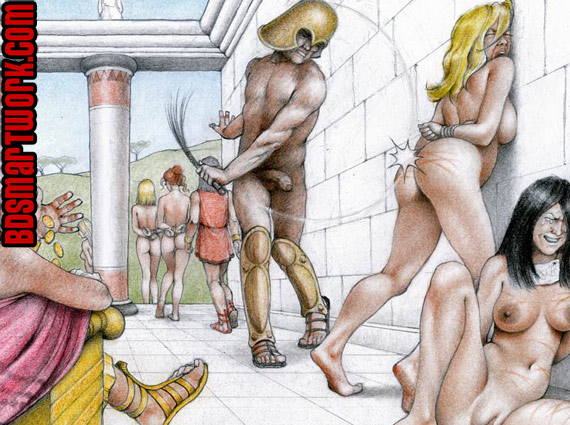 PLINIUS- "Give these useless whores 100 lashes each, then toss them to the gladiators for a couple of days. I wanna be sure that the next time they're up for auction, they'll make more of an effort to get sold fast!
BLONDE- "AHHHHHHMM YOU'RE KILLING ME AHHHHMM
PLINIUS- "Did you ever see such a poor performance on the block? When that Legionnaire Captain said he'd use the blonde's cunt as a reward in the prisons for good behavior? The worthless slave couldn't stop screaming in misery! That's right Decimus, give the thankless slut something real to scream about!
BLONDE- "PLEASE SIR!!! AHHHHH!!! HAVE MERCY ON ME!! AHHHHH!"
PLINIUS- "And the brunette was even worse! When that rich, spice trader wanted to buy her and use her mouth as his personal toilet, the haughty Trojan slut passed out in horror! Well just you wait, raven-haired trash, you can't imagine what I've got planned for you!"
BRUNETTE THINKS- Oh Gods kill me now if I have to service that disgusting fat man again with my mouth… and feel his pudgy fingers grabbing my hair, forcing my head down to is revolting cock!