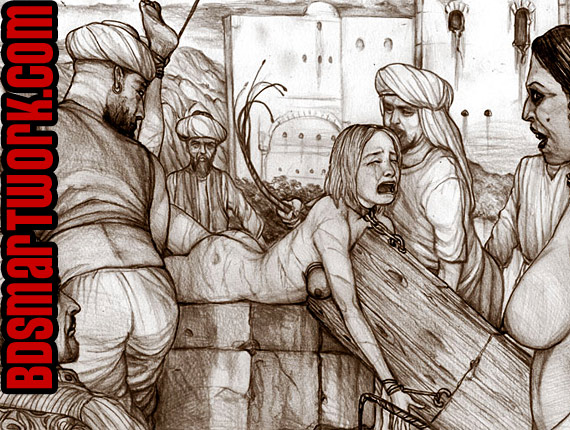 Mara refused to accept her new status as a slave rather than the aristocratic daughter of a slain crusader. But her owner, Masul, had a ready and always effective solution for curing the haughty Mara of her refusal to accept the new reality. Her whipping was brutal and extended and done in public, in full view of the other slaves as a lesson. Mara would quickly become the most obedient pleasure slave of them all. Mosul's first wife conducted the punishment session…
"Say it again, slave!"
"PLEAAAASSSSSEEEEEEEE… I beg my mistress to allow this worthless slave to lick her Master's arsehole…!!!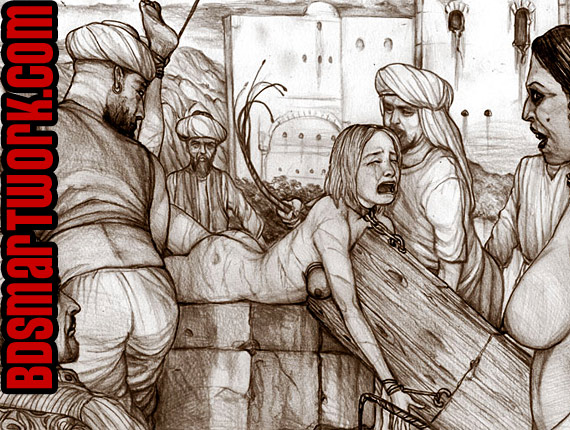 Yahib's wife, Musafi, may not have been very attractive, but she was one to always think of ways to keep her husband happy. Yahib's other wives were beautiful of face and body – but none knew how to cater to his needs and wants as much as Musafi. And now she had endeared herself even more in his eyes by spending her own meager funds to buy him this new white bitch as a present.
"If you want, your lovingly wife can take care of her training according to your liking , Master…"
"Yeah… but have her sent to me every night, I want to verify her progress…"