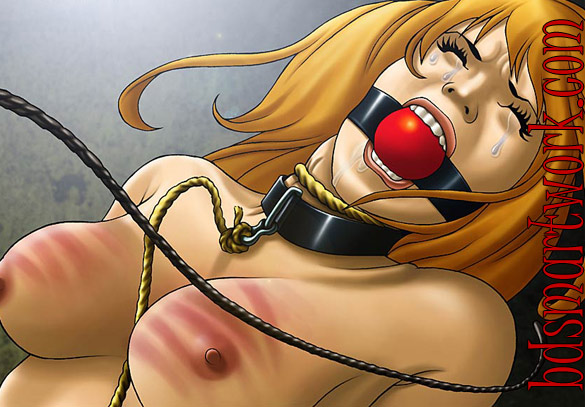 As the marks of his whip burned in lines across their tender flesh, the girls watched as the fat, ugly face of their tormentor with its crooked-toothed grin slobbered all over their naked pain. The man's face and the huge erection made clear to the miserable captives how pleased Sanchez was to be inflicting agony on helpless girls.
The terror Madison felt at the cruel control the man had over her body floated upon a puddle of humiliation the girl felt at the obscene exposure of her pussy to the man's crazed lust. As Sanchez beat her friend's tits, Madison saw how her waxed-smooth mound was vulnerable to his pig eyes and how it would be just as vulnerable to the bite of the whip if Sanchez chose to direct the leather there.
In their thoughts both girls were reduced to a primal hope that the man would spend his time hurting her friend and leaving her alone.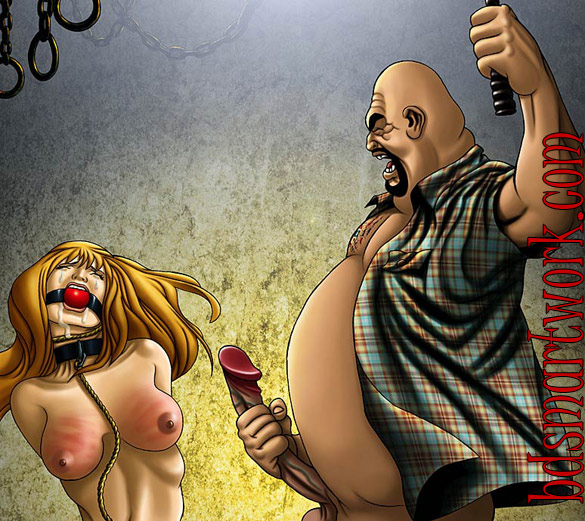 Stop, you sick bastard, stop! My breasts are burning! He's going to whip them off of my body!
"See what your suffering does to me, slut? It turns my prick into an iron bar, all the better to rape you with later! It must feel like I've whipped your tits for hours, but it has only been minutes.
"Cry for me, whore! Seeing those fat tears run down your arrogant fucking face is the reason I endured years in a prison hellhole. I knew every day I survived I was that much closer to grabbing a bitch like you and making her pay for all the teasing, making her pay for all the times she gave me a hard on that she would never, ever consider satisfying. And now you are that bitch!
"Feel my whip cutting into your skin, punishing your proud tits! This is revenge for wearing those tight tank tops to flaunt your firm rack in the gym. All those aerobics classes with your sacks of breast meat jiggling left and right… Now I have you in my cellar and you follow my rules!"