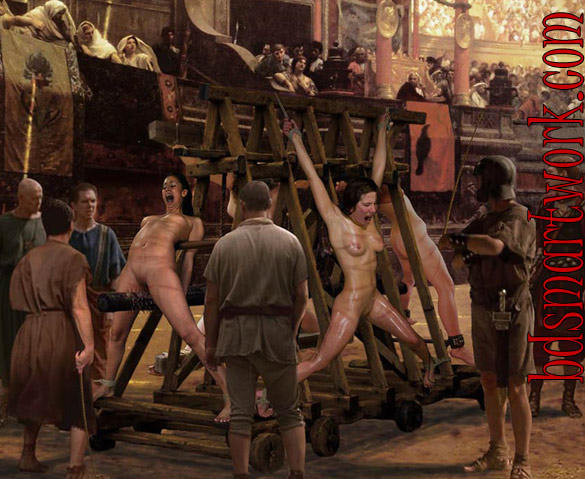 Sometimes captured women were exhibited on a special wooden frame on wheels, four at a time. The frame was appreciated by the largely drunken crowd because from wherever you sat in the Coliseum you got a good view of at least one naked slave. The frame was painful for all three girls, but for the girl on the front it was especially painful…
The unfortunate woman was tied so that her body was arched backwards, pushing her cunt out. Just below her cunt was a pole into which sharp pointed nails had been driven. The girl struggled against cramp and soon had difficulty holding her vagina above the nails. On a signal from the Emperor, the flogging began.
The flogging was performed with long swishy sticks. There were no rules about which part of the body should be punished because all parts were punished…
From time to time an official fingered the girls' cunts and if he found one that was especially wet and juicy, he announced it to the crowd. The crowd would choose which of the girls would be penetrated at the end of the flogging sessions.
The girl on the nails was usually a feisty warrior from some Gallic tribe. When the flogging stopped for the other girls, it continued for her. At least two men worked on her breasts with cats o'nine-tails.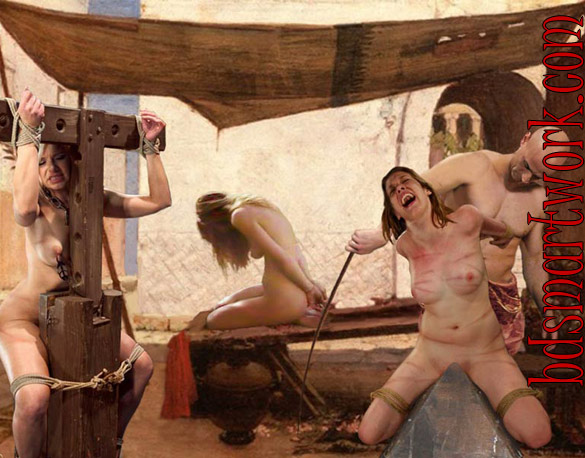 With the new influx of slaves after the Gallic War, whorehouses found it easier to change girls more frequently. It was one of the worst fates for captured women. They knew that they would be used day and night because new women were always the most popular in brothels.
Antonius was a brothel owner and an experienced slave trainer. He wanted to work fast this time to get the girls into his brothel as soon as possible.
He subjected them to merciless sessions of physical abuse, so intense that he had to let the girls rest for a few minutes from time to time because he was afraid of doing them permanent damage.
He watched as one of the girls tried to keep her vagina off the sharp edge of a marble block. He brought his riding crop down from time to time with no warning, to ensure that the girl would move and feel the sharp edge of her clitoris.
"Say, I'm a slut!" he ordered.
"I'm a slut! I'm a slut! Don't hit me please! Take me off here! I'll do everything you say!"