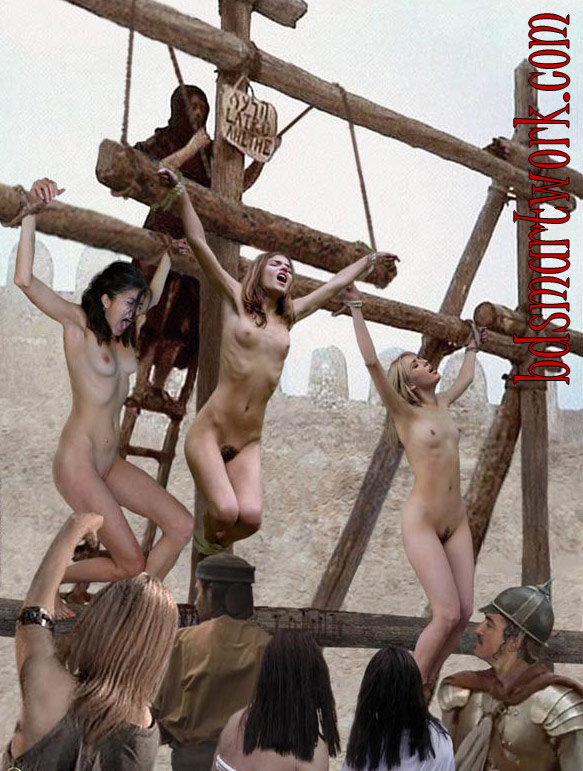 There were three slaves' revolts. The most famous was led by Spartacus in the 70's BC. The slaves' army proved difficult to defeat. Many male slaves were physically strong, and their army was well-organized. They fought Rome for over a year, but were finally defeated. 6,000 slaves were crucified along the Appian Way that led to Rome…
Not all the captured slaves were crucified to death. Some of the women, especially the pretty ones, were displayed on scaffolding to which they were tied, not nailed. They were stripped naked so that they could be flogged and abused more easily.
As the macabre line of crosses approached Rome, more and more Roman citizens came to watch the spectacle, and the soldiers soon saw the opportunity to make money out of their naked booty.
Aemelia and Juliana stood fascinated, unconsciously licking their lips at the sight of the three slaves.
"They're lovely," said Aemelia.
The officer nodded. "My men will confirm that! They've been fucking the asses off these bitches for two weeks now!"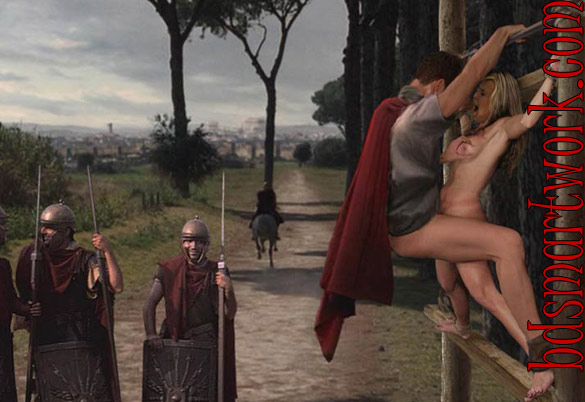 "NOOOOO, MASTER, NOOOOOOOOOO!!! PLEEEEEEEEEEEASE!!! YOU'RE HURTING ME! AAAAAAAAAAAAGHHHHHHHHHHH!!!"
"UGH! Take that, bitch, right up your slave's cunt! And that! UGH! And that! UGH! Does it hurt if I squeeze your tits? Does it, bitch?"
"AAAAAAAAAAAAGHHHHHHHHHHH!!! YES, MASTER, IT HURTS!"
Sabinus Regulus had fought in the final battle against Spartacus, in which the Roman army had defeated his army of 60,000 men. One tenth of the prisoners were selected to be crucified along the 10-mile road that led from Capua to Rome. The soldiers had been allowed to choose female prisoners and tie them to the scaffolds too, for whatever use they wished…
Sabinus had selected a blonde with lovely firm breasts and a high, prominent vulva that got to him immediately he saw it. He ordered her to stand with her legs apart and he inserted the edge of his sword between her cunt lips, carefully separating the lips to reveal her clitoris… He liked the way she trembled when he did it, and he had always liked blonde cunts, so he chose her.
He soon discovered something else he liked about her. She was very shy. When he asked her why she was slow to show him her cunt, she explained that she had never been a slave. She was from a small tribe that had joined Spartacus after one of his victories against the Romans. The tribe had always hated Rome for its taxes and bullying and the way it took away the women…
Sabinus discussed this with his companions and they advised him to start training the girl straight away. He took their advice. He dragged her to the end of the line of crucifixions, which was now nearing Rome, and he tied her to one of the scaffolds for displaying female prisoners.