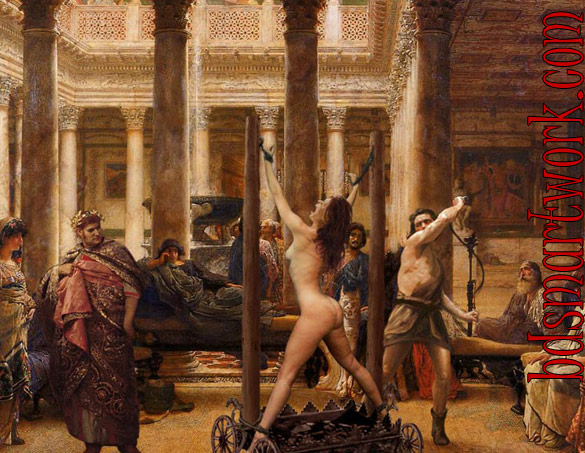 The Governor reclined on his couch and contemplated his new Hibernian slave. Her original name was Fedlimid, but no one remembered that. The Governor had renamed her Cula, from the Latin culus or ass. It was the girl's buttocks that had impressed him when he first saw her in the slave market…
It was only the slave's second week in his household. She came untrained, as he had ordered. The training sessions were interesting, the Governor always thought. Why would anyone want to miss them and give the trainer all the fun?
Training in the second week included a severe flogging session every lunch-time.
The girl was stripped and tied to a flogging cart, which was wheeled into the atrium or central patio before lunch.
The session began with a painful whipping of her back, especially the buttocks. This was always performed by the Governor's chief slave.
The whole household was expected to gather to watch the flogging, during which the girl screamed and begged for mercy.
In the second part of the session the Governor's aged counselor conducted a brief conversation with the girl. His intention was to turn the slave's private life into a public life.
On this occasion the subject was masturbation.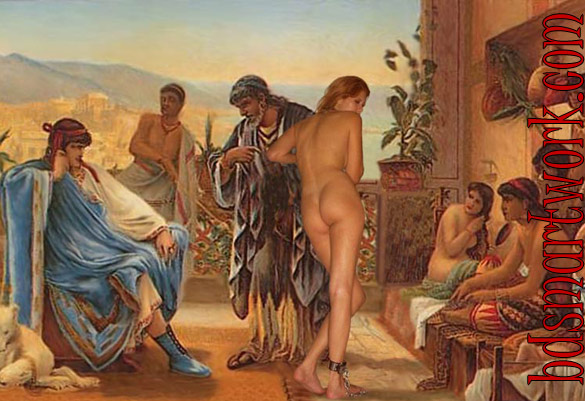 Decimus Dresus contemplated the slave's shapely buttocks and was intrigued. He liked the deep dark crack in them too…
"Show me your ass," he ordered. "Hold your cheeks apart and show me where a woman's turds come from."
Anna the Briton obeyed, showing him her wrinkly anus, still virgin…
"Turn round. Stick your tits out."
The girl obeyed, arching her back…
"Pull your sex lips apart!"
Anna glanced nervously at the slave dealer, who nodded. She pulled her lips apart and showed him the soft gentle pink of her lips… He licked his own lips unconsciously…
Anna hoped he would buy her. She had not asked to be a slave, but she was a slave, and there were probably worse Masters than this one. At least he was young. And he did not look like a brothel owner, which was what she dreaded most.
Decimus Dresus had inherited his money from his father, a merchant who dealt in garum, a salty sauce made from the entrails of fish. Patricians used it to spice up their meals, partly because they considered it an aphrodisiac. Decimus thought this was nonsense. What made the meals aphrodisiac, he thought, was the way they were served by naked-breasted slave girls who later in the meal offered you figs and dates from their naked cunt lips and who were stripped completely naked and flogged and fucked after the meal… But the garum made a lot of money for his father, and the money gave him all the tits and cunts and asses he could dream of, which was a lot of tits and cunts and asses, so he had nothing against it…
Decimus realized that he had an aching hard-on that was bothering him and he took it out and began fondling it…