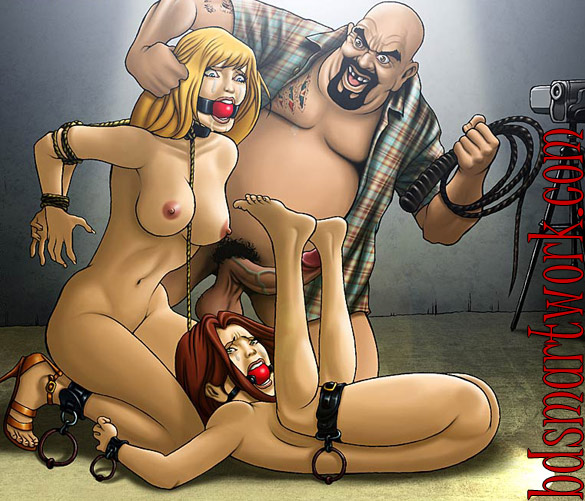 "Over here, close to your hot girlfriend. Let's go, whore, on your knees where you belong! That's right, spread those knees apart. Give red a nice view of your clam while you get a look at hers.
"I've got to admit, with all those workouts at the gym, you have turned your bodies into fine-looking pieces of fuck flesh – you have given yourselves flat bellies, firm thighs, and round asses to go along with cute faces and fat jugs.
"You're gonna get the chance now to do what you were made for: straightening out men's dicks and draining men's balls! I've got a buyer for a very special video you cunts are going to help me make. With these cameras, I'm going to record the steamy lez session you girls are about to perform.
"Blondie chose you to be her lover, red. I bet that makes you feel special."
What is this crazy old fuck talking about! I'm not a lesbian! Does Olivia think I am a dyke? I only kiss other girls to tease guys – I would never actually do another girl!
I've got to get out of here!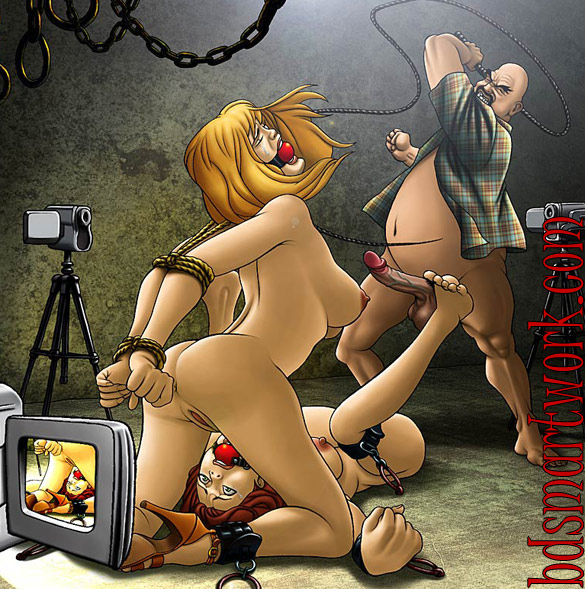 Olivia watched in horror as the leather snaked backward along the floor away from her. She tried to cringe, but discovered that the way her arms had been tied behind her caused her breasts to thrust outward and there was no ducking or covering them. The heavy pink globes of the helpless girl's flesh jutted out to meet the first savage stroke of the whip.
"Gaaieehh!"
The blonde screamed into her gag as the crack of the whip sent pain ripping through the meat of both breasts. She stiffened in shock at the force of the blow.
With clear lust in his face and a rigid cock, the man stared at Olivia's tits as his arm moved backwards again. Then the tip of the leather was whistling forward to snap on the bound girl's naked skin. Now Olivia bucked, rocking back off her knees before her restraints settled her right back into her place.
"Oaaaaiieee!"
Stop! No, stop!
He's whipping Olivia! No!