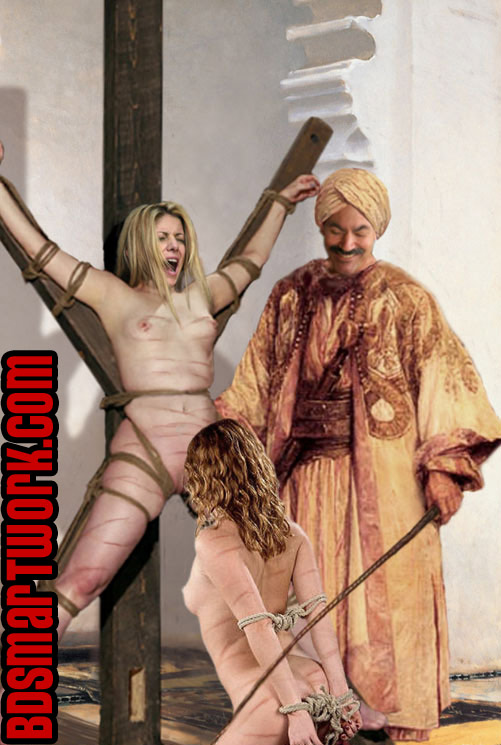 The robed women were lined up and forced to watch as two of the freshly caught slaves were burned alive by the heathen army.
Anya and Lania screamed madly as the flames slowly consumed their flesh. "PLEEEEASE! AAAAAUGHM Please kill us PLEEASEM"
"No my little virgins," laughed the Bedouin chieftan, "you are the example to all the other slaves. They will obey or face the same death!"
One by one the slaves were stripped and raped. The screams of the burning sisters rang in their ears as the soldier's cum filled their innocent young bodies.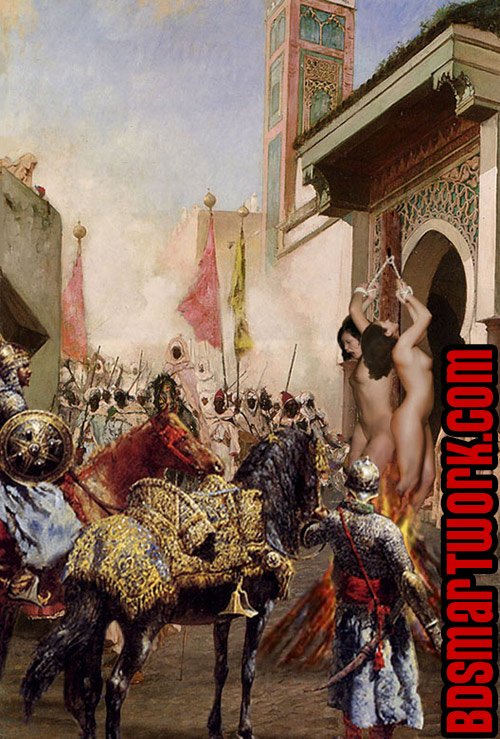 "Do it whore," said Husam, "Lick your sister's cunt while I whip her pale white tits! I will give you one minute to make her cum in your mouth. If you fail, I will slice off her clit and feed it to my dogs."
Even though it disgusted her, Belinda leaned in and began to lick the folds and the bud of her sister's slit as Husam began to whip her breasts harder with each stroke.
Belinda worked her lips and tongue feverishly as her sister screamed at first in agony but soon in ecstasy as well.
Suddenly Belinda felt her sister's hips thrust forward against her mouth as began to cum. Belinda clamped her lips over her sister's flowing sex and sucked all the juices into her mouth. Then she opened her mouth and showed Husam her sister's cum now cradled onto her tongue. "Very good little slave. Now let's see how you suck cock."
Too afraid to refuse Belinda opened her mouth as Husam parted his robes. After only a moment of licking his massive member Belinda felt him spew against the back of her throat!
"Aaaah! You are very skilled little whore. My wives will very much enjoy your talents while I am away."