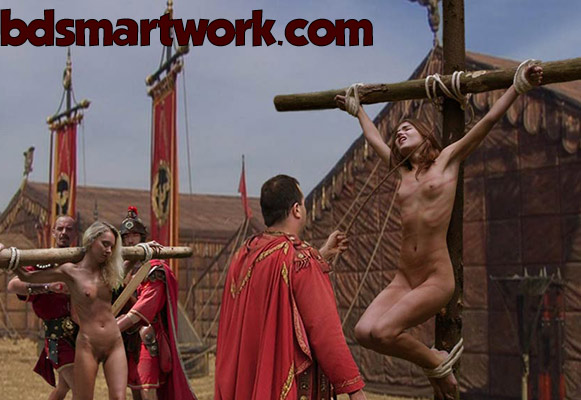 Praetor Carvonus ran his fingers along the red welts blooming on his Dacian slave's tiny tits, pinching and scratching them to make the girl's tiny frame shudder on the cross. Decebalus's Dacian army had been utterly crushed, and the fine women they had captured were now the spoils of war.
A few feet away a gorgeous blonde woman was struggling to walk as she was forced to hold the heavy wooden pole across her slender shoulders and two centurions whipped at her bare ass.
"Faster honey, I want you lathered up like a horse when I bust your cunt with my cock!" One of the centurions laughed.
"Please, let me fuck you now! I can't hold this! PLEASE!" She whimpered.
Carvonus smiled, and forced two fingers into his slave's dry cunt, brutally forcing open her reluctant hole.
"Ngggghhh!" She whined.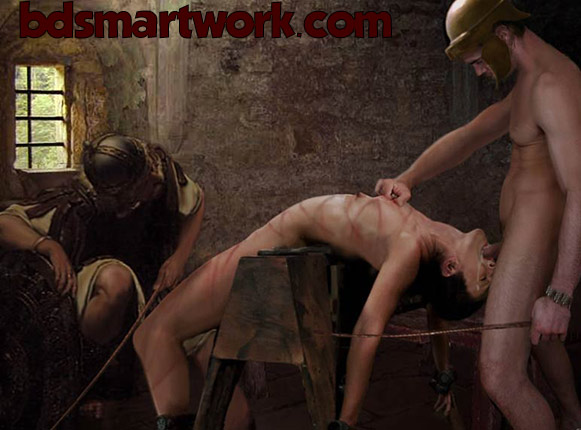 The Roman expertly struck her right across her puffy red nipples, driving them back into her chest like hammered nails and watching them rebound, swelling with welts.
"NOOOOOOO!"
The two Romans began alternating their strokes, first across her abused cunt, then across her tits and back and forth it went. Never giving her time to recover, striking her while she was still screaming from the earlier blow. Soon her tits and pussy were completely covered in welts.
"Open up whore, it's time to swallow some Roman cock. My friend is going to keep whipping your filthy slit until I cum, and if you dare bite me, I'll have him burn off your clit. Understand?"
The soldier didn't even wait for her to reply, instead shoving himself balls deep in her throat and groaning with pleasure as she screamed around his cock…