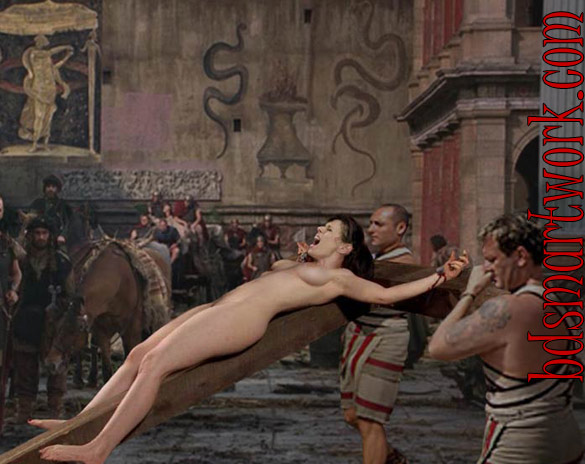 He had been fascinated by Maxima's cunt, which responded immediately to the touch by producing a sweet-smelling oily secretion. The cunt-juice made his head spin, he said, and gave him a hard-on like the stone phallus that pointed the way to the whorehouse in the street. He was also fascinated by the girl's noisy orgasms which seemed to get stronger and louder the more he whipped her ass and flogged her breasts with leather straps and canes.
Maxima had become the star turn at his dinner parties, where a special platform had been constructed for her. The platform was a kind of bed on very tall legs. Maxima was tied to it in different ways and guests sat underneath her. The height of the bed could be adjusted, and there were wide gaps in the wooden struts so that the guests could see her.
Maxima was tied in different ways and placed at different heights above the guests. If she lay on her front, her heavy breasts hung enticingly through two holes and swung over the table as if they had a life of their own. They could be slapped or caned at the guests' discretion. Sometimes the guests covered them in meat juice and sucked them before they flogged them.
There was also a large hole in the bed immediately below Maxima's cunt. Winners at dice games were allowed to masturbate her in any way they wished. They normally did this with fingers of fruit or tongues. The drunken and horny guests were fascinated by her shouts and by the way she squirted over them when she had an orgasm.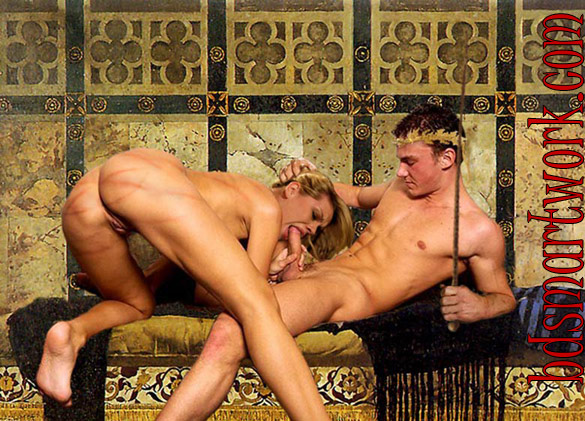 They called her Flavia now. She had been caught when her village on the south coast of Gaul was attacked by Arab pirates one night. She was later sold to a Roman slave trader. She knew nothing about her future life as a slave because enslaved women never came back to tell their story…
Flavia had been with her Marius, her Master, for a week now. During that week she had spent a lot of time working naked in the house all day, often in the kitchen. Marius was a bachelor and he wanted a slave who could cook.
Flavia had also spent a lot of time naked sucking her Master's cock. He rarely beat her when she was working in the house, but every time she sucked his cock he slapped her with a horrible stick rod made of dry twisted leather. It cut into her and stung badly.
When he beat her, he sometimes spoke one word at a time and hit her to emphasize his words…
"Keep… sucking… bitch!" he said, with three blows on her buttocks. "And stop this light-fingered stuff!"
SLAAAAAAAAAAP!
"AAAAAAAAAAAAGHHHHHHH!!! YES, MASTER!"
SUCK! SUCK!
"I… want… to have… an orgasm, you stupid slut! Do… you… understand?"
SLAP! SLAP! SLAP!
"AAAAAAAAAAAAAGHHHHHHH!!! Yes, Master!"
"If you just suck the end of my cock, we'll be here all month. And three fingers are not going to help much either!"