The people of Russia knew him by many names. The Mad Monk, some called him. A Holy Fool, others called him. But the young women of St. Petersburg knew him by another name: "Master." That was the name they spoke late at night, when they were face down on a dirty mattress, or pressed up against a wall somewhere in the shadows of the street.
Rasputin had his fill of women, though no one was quite sure how.
To look upon him was to be repulsed. This man was not attractive. He had a dark face, his eyes shadowed and cruel. His hair was limp and greasy, a testament to his infrequent bathing. His rotting teeth and rancid breath did not inspire passion, and his body reeked like a goat. There was no earthly reason why this man should draw women to him like honey draws flies. Yet he did. He fucked with wild abandon, and no one ever seemed to refuse his advances.
There were whispers among the people that Rasputin possessed supernatural powers. That he could control minds and bend the will of the women he took to bed. Perhaps these powers were a gift from God. Perhaps they were a gift from the Devil. No one knew for sure.
Katya had felt his powers first-hand. A maid in the Tsar's household, she had been cleaning late one night when she felt a presence behind her. She turned and…nothing. Everything went fuzzy. When she became aware again, she was standing in a hall gagged and bound, naked but for her panties.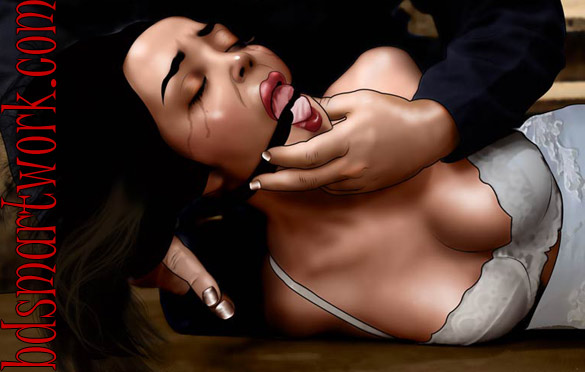 Rasputin's whores were numerous. Often they were young; pretty things that laboured as maids or cooks in the Tsar's household. Sometimes they were older, and of a higher class. A few were actual whores, procured in the streets and alleyways of St. Petersburg. The women varied, though most had one thing in common. All had begged him to take them.
All those who knew Rasputin were confused by his ability to fuck such a collection of women. He was not an attractive man. They supposed the appeal came from his political connections to the royal family or his skills between the sheets. After all, the women all left his bed singing praise of his skills and his holiness. But there was something that was just so hard to believe about that. His eyes were so cruel, his hair so greasy, his manner so hard. Why would women want a man like him?
What no one knew was that the women were not willing at all. Rasputin was like a vampire, stalking his prey and taking them whenever it suited him. He enjoyed the unwillingness; their little cries made his dick so much harder.
He had grabbed this woman during a ball that was being held for the Tsar's nephew. She was easy prey, standing by herself near the window. It was a simple matter for him to creep up outside the window and take her.
She had put up a valiant struggle; her dress had ripped in the fight, exposing her breasts. But Rasputin had won in the end. He always did. This woman had bit him before he managed to get the gag in. Oh, she would pay for that.
Her breasts were soft… luscious… inviting. He would get great joy from biting them. He sank his teeth into her warm skin; he felt her tense underneath him as the pain made her stiffen. Her cries of pain and her muted pleas to stop took him right to the edge of cumming. He held off, though. He had plans for this little bitch.
"Have you ever had your ass fucked, woman?" he asked.
She shrieked and started thrashing around.