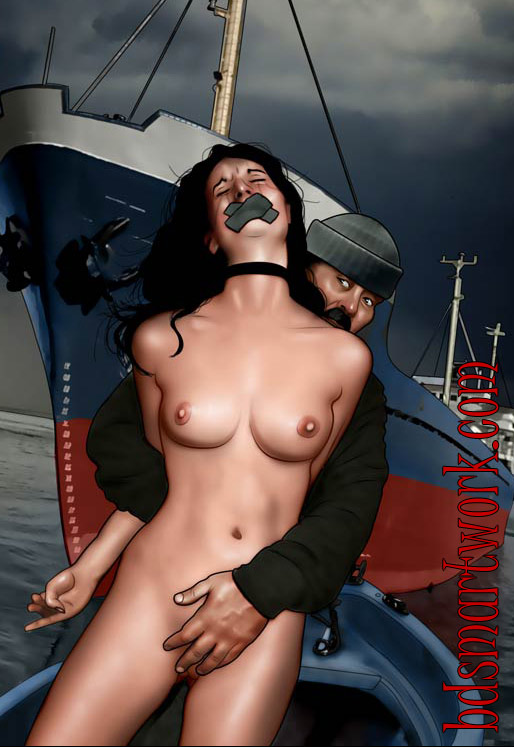 At any given time there are thousands of cargo ships crossing the world's oceans, delivering cars, electronics, food and countless other commodities. One ship, however, carries a very different kind of cargo: sex slaves. Affectionately known as the Slave Barge to its crew, the ship looks like any other cargo vessel on the outside, but on the inside it's a paradise for the crew…and a nightmare for the cargo it carries. The holds of the Slave Barge are a series of prison cells and dungeons, all designed to quickly break and train the new girls that come aboard.
The girls that have the misfortune of ending up on this god forsaken ship start out as beautiful, independent and strong young women. But once they descend into the bowels of the Slave Barge…
They're just Cargo.


Betty was so cold she could no long feel the biting arctic wind sweeping across her bare tits. A few hours ago she'd been a normal college student going to her first off-campus party in the warehouse district. That's when this nightmare had started, when she'd been grabbed by a pair of sailors and locked away in one of the abandoned warehouses.
"Ughhh, for such a fat-titted cow you sure have a tight pussy!" Her captor had taunted her as he rammed his cockmeat in her dry, resisting vagina.
"Flip her over, I want to take her ass!" The other sailor said.
"NNIIEEARRGGHHH! PLEASE! TAKE IT OUTTTTT!" She'd screamed as the dry fucking of their cocks began stretching and tearing her delicate holes. Of course her screaming only made them fuck her harder, fucking her in a brutal rhythm that never gave either hole a chance to adjust to the massive invaders tearing them open.